Perhaps two of the biggest errors this season, particularly in the Champions Cup, are Freddie Burns' and Jacob Stockdale's try line blunders.
Bath's Burns had the ball slapped out of his hand by Toulouse's Maxime Medard whilst celebrating what looked to be the match-winning try in the group stages, while Ulster's Stockdale lost control of the ball over the line in a tackle from Dave Kearney in the quarter-final.
Now Munster's Andrew Conway has joined the club, in what seems to be a growing trend this season, as players seem to get complacent once over the line.
In Munster's clash with Connacht at Thomond Park, the Ireland winger made an interception in the opponents' 22, and sauntered under the post. But in similar fashion to Burns, Conway missed Stephen Fitzgerald creep up behind and dislodge the ball.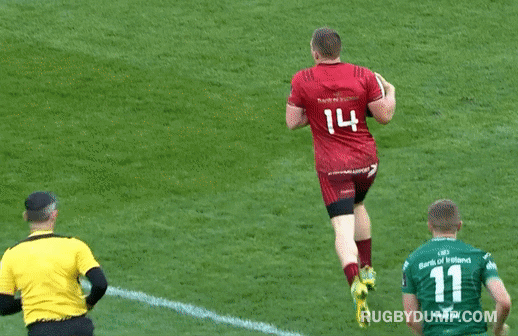 Unlike the errors by Burns or Stockdale, this error did not prove to be too costly, as Munster went on to win the game, but at the time it would have put the men in red in the lead.
The fact that Munster won is probably why Conway is slightly less distraught than Stockdale was after the quarter-final. The 27-year-old took to Instagram to say that that will "teach" him, whilst also congratulating Fitzgerald on a great tackle.
Not only is this proof that a defender should never give up, but the dangers of complacency from the attacker. One of the most infamous cases of this was when current Stormers coach Robbie Fleck was chased down by Deon Kayser in 2001.
"I'd always prided myself on never giving up," said Kayser some years later. "There were many instances before that day when I'd chased in vain. That day was one of those lucky ones when all those other fruitless efforts finally paid dividends."
You can watch Fitzgerald's excellent chase again in the official video highlights below.