South Africa pulled off a miraculous victory at the Singapore 7s over the weekend, coming back from 19-0 down to beat Fiji 20-19 in the Cup Final. While they were victorious in the end, they faced some bruising physicality on the way.
After losing to them in the pool stages, Fiji made it through to the final and shot off to a seemingly unassailable 19-0 lead, leaving the Blitzboks with all to do in the second half in Singapore.
Fiji conceded early in the second period then had a great chance to extend their lead with the scores at 19-5, but the ball didn't quite go to hand. Instead, South Africa's Ryan Oosthuizen took a quick throw in that led to one of the biggest hits we've seen all season.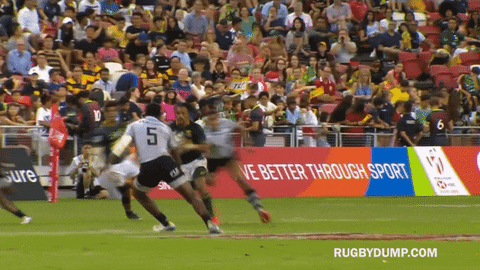 Playmaker Selvyn Davids was on the receiving end in more ways than one as he got the ball, beat one player but then went down a blind alley and when he looked up, was met by an absolutely ferocious shot from Apenisa Cakaubalavu.
It was big man on little man but the powerful Fijian managed to keep it completely legal.
In a brutal passage of play, Davids – to his credit – held on to the ball before it was fed to Chris Dry, who was also then thumped to the ground.
A penalty for offside allowed Justin Geduld to put in a lovely kick for 19-year-old Angelo Davids, who went over for a try but was then also bumped, this time into the advertising hoardings.
A yellow card followed and South Africa's comeback was complete minutes later, as Selvyn Davids slotted a drop-kick penalty from in front of the posts to secure a famous 20-19 come from behind victory.
You can watch the hit and sequence of play that followed in the video below
Watch highlights of the final day below