Montpellier secured a crucial third win in a row to keep themselves in contention for the Top 14 play-offs by defeating Pau 24-15. Vern Cotter's side came out on top in a tight match marred by a red card for each side, both a result of the contentious high tackle laws.
Baptiste Pesenti was the first to be dismissed in the 61st minute after leading with the shoulder on Montpellier fly-half Thomas Darbon. A clumsy challenge, Pesenti essentially fell on Darbon, who had already been tackled by Pau replacement back-rower Paddy Butler.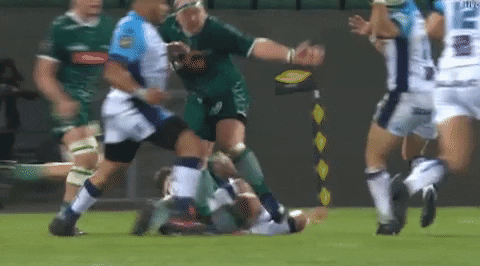 Then just three minutes later, referee Pascal Gauzère brandished another red, this time for Nemani Nadolo for a swinging arm to the head of Steffon Armitage. The Fijian's tackle was slightly more reckless than that of Pesenti, but ultimately warranted the same result in accordance with the World Rugby laws.
These incidents took away some of the intensity of what had been an intriguing encounter up until that point. A solitary penalty from each side were the only points scored in the second half.