Sharks centre Jeremy Ward will soon find out (*update below) if his dangerous tackle on Rosko Specman will lead to a ban, and how severe, after he was cited following his team's 37-14 Super Rugby round four loss to the Bulls at Loftus Versfeld. 
Ward picked up and flipped the South Africa 7s flyer, who made a brilliant Super Rugby debut recently, dumping him dangerously. However, a quick TMO check at the time led to no further on-field sanction, so play continued.
He has since been cited for allegedly contravening Law 9.18: A player must not lift an opponent off the ground and drop or drive that player so that their head and/or upper body make contact with the ground.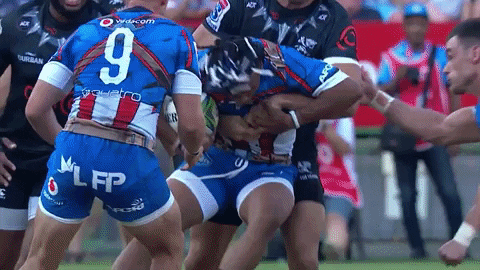 The Citing Commissioner was of the opinion that the incident had met the Red Card threshold for foul play. The Case is to be considered in the first instance by the SANZAAR Foul Play Review Committee which will take place today via video-conference.
Ward, who has a growing reputation as a hard-hitting midfielder, was suspended for two weeks in 2016 after he made a dangerous – albeit unfortunate – challenge against England in the U20 World Championship.
*UPDATE: Ward has been suspended for 5 weeks
"The Foul Play Review Committee deemed the act of foul play merited a mid-range entry point of 10 weeks due to World Rugby instructions that dictate any incident of foul play involving contact with the head must start at a mid-range level.
"The evidence demonstrated the victim player's head made contact with the ground due to the Player's reckless actions. However, taking into account mitigating factors including the Player's age, relative inexperience, remorse, and the fact the Player has pleaded guilty at the first available opportunity, the Foul Play Review Committee reduced the suspension to 5 weeks."
Specman crossed for another brace of tries as the home team proved too strong for the Sharks.