Sale Sharks triumphed over La Rochelle in the Champions Cup on Sunday in a game that was defined by Pierre Bourgarit's first half red card for eye gouging.
The France hooker saw red from referee Andrew Brace for making contact with Tom Curry's eyes during a scuffle before half time at the AJ Bell Stadium, in what was one of the easiest decisions that referee will make in his career.
In light of this offence, the 22-year-old is likely to face a lengthy ban, but many people have waged in with what punishment he should face.
Frankly no place for that behaviour no choice for the referee frankly he deserves a season ending ban. That has to come.

— Nathan Roe (@poolking92) November 24, 2019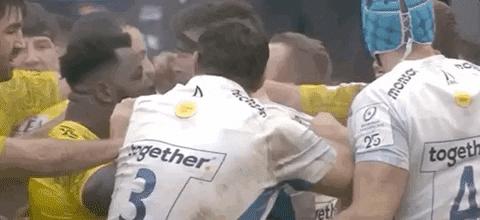 What the hell was he thinking??? ROG should kick him off the team.

— Gavin Mitchell (@ConorCahill21) November 24, 2019
There are very few things, if any, that are worse than gouging in rugby, and there have duly been suggestions that Bourgarit should be banned for the rest of the season, or even lose his contract. There have also been demands for him to be banned for life to make a statement that this is not tolerated.
He should be given a 12 month ban for that, just to prove the point it's not acceptable, and won't be accepted.

— Dan 🏴󠁧󠁢󠁷󠁬󠁳󠁿 (@DanLeahy71) November 24, 2019
The authorities will undoubtedly be quite severe with their punishment, but as the hooker has no history of such offences, his punishment may not be as extreme as some may like.
It would be wrong to say that gouging has ever been rife in rugby, but there were more cases earlier this century, with the punishments being far more lenient than they have been in recent years. Former Stade Francais prop David Attoub's 70-week ban in 2010 could be seen as a watershed moment in gouging, where there was a major crackdown to stamp out such a despicable act.
Attoub was punished for what was one of the most heinous cases of gouging in rugby's history, and while it has diminished over the years, Sunday showed that there are still cases.
Only way to stamp it out once and for all is to hand out a lifetime ban, there is never any excuse for deliberately gouging.

— alun price (@alunprice667) November 24, 2019
Despite playing over half the match with 14 men, and a quarter of the match with 13, Ronan O'Gara's side were still able to stay in the match throughout, and only a late Chris Ashton try put the game out of reach.
La Rochelle have now lost their opening two games of the Champions Cup, and are likely to play the majority of their campaign without Bourgarit.