While Beauden Barrett celebrated his debut for the Blues with a convincing 30-20 win over his old team at Eden Park, the match was full of subplots, one of which was the battle between himself and former teammate Dane Coles.

All Black hooker Coles scored a great try early in the game, sprinting 25m down the right wing before Barrett came across in cover in an attempt to stop him.
The Blues fullback had no chance, despite a good effort to bump him into touch.
"Fair play to him," Barrett said post match of the hooker's effort.
"He's pretty good in the wide channel and in the space, so a guy like him should be able to finish against someone like me."
After Coles finished, he marched straight to Barrett to give him a gobful, and the All Black flyer got quite comically caught in the middle of the Hurricanes celebrations.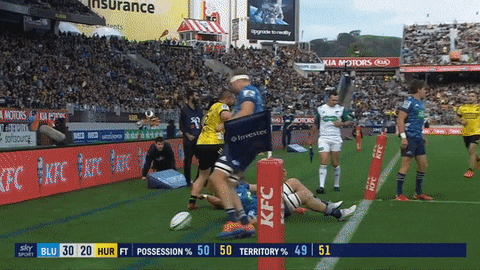 The two met again later in the match, with Coles on the losing side of the scoreline and probably a bit frustrated, so he put a cheap shot in on his mate.
"My back felt his shoulder towards the end of the game," Barrett said with a smile post match.
"I don't know where it came from, but I'll have to look at the tape…"
As the footage of the Coles late shot below shows, Barrett wasn't having any of it.