Piers Francis almost had the shortest debut in Rugby World Cup history in England's match against the USA on Thursday. In fact, it would have been the shortest appearance ever in a RWC match when he collided with Will Hooley in the very first tackle of the match, making contact with his head.
High tackles have undoubtedly been the most debated topic of the RWC so far, and it only took five seconds before there was another tackle that was added to the catalogue of controversial hits at this year's tournament. The referee Nic Berry missed it on that occasion, but there are expected to be ramifications.
In light of the tackle, former and current professionals have had their say, and what should be the outcome. Jamie Roberts was one to point out if Australia's Reece Hodge's three-week ban set the standard at this RWC, Francis should expect the same punishment.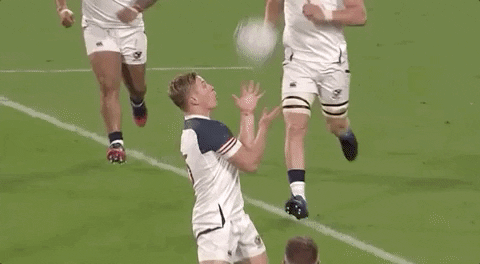 Both Francis' and Hodge's tackles are comparable, although Hooley had dipped into the tackle slightly more than Peceli Yato had, and it could be argued that Francis initially hit the shoulders and slid up.
Then again, the Northampton Saints centre was coming in at a greater speed, and it could therefore be deemed to be more reckless. What does come across is that neither player showed any malice, if that does count for anything.
Francis could be in trouble if the Hodge decision sets the standard

— Jamie Roberts (@Jamiehuwroberts) September 26, 2019
Former Wallabies winger Drew Mitchell, who has been very critical of the decision to ban Hodge, posed the question on Twitter as to what Francis should expect, and another three-week ban seems to be the verdict.
Hodge was initially banned for six weeks, but it was halved based on his character and record, so the same should be expected for Francis.
https://twitter.com/drew_mitchell/status/1177187563380994049
Citing no doubt 3 weeks

— Andy Goode (@AndyGoode10) September 26, 2019
Was there an onfield decision? If not what is the TMO doing.. shoulder to head, slight mitigation if you go by collateral issues before tournament

— Gordon D'Arcy (@Gordonwdarcy) September 26, 2019
There were a couple of incidents in this match that were missed, although John Quill's heinous challenge to the head of Owen Farrell was not. The flanker saw red, and it is highly unlikely that he will play again at this tournament, as he's just been suspended for three weeks.
With the tournament not even a week old, there have already been three suspensions to date, which suggests this could be the defining feature of this year's RWC.
Francis will face a discplinary hearing at a date yet to be determined.