Hurricanes forward Vaea Fifita's sending off has been upheld after a disciplinary hearing ruled that he had indeed contravened law Law: 9.13, for dangerous tackling, against the Sharks in Super Rugby on Saturday. 
The Hurricanes came away from Durban with a 30-17 win but lost Fifita to a red card with just six minutes left in the game.
His tackle on Dan Du Preez was deemed worthy of a red card as it was with force and at the throat area (high). A SANZAAR Judicial Committee Hearing backed up the referee decision and has now suspended him for three weeks.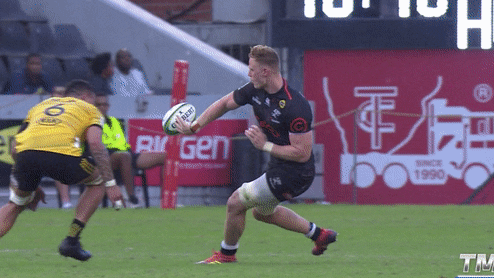 Hurricanes coach John Plumtree was unhappy with referee Nic Berry's call at the time.
"I questioned that it had force (the tackle). For me it looked like a swinging arm. He didn't quite get the height right in the tackle, but I certainly questioned the force. That's what the discussions were about," Plumtree said.
"Another referee would've yellow carded that. That's just the consistency that everyone is after. But again Nic made the call and we have to live with it."
In her finding, the Judicial Committee Chairperson Helen Morgan ruled the following:
"With respect to sanction, the Judicial Committee deemed the act of foul play merited a mid-range entry point of 6 weeks due to the World Rugby instructions that dictate any incident of foul play involving contact with the head must start at a mid-range level. Taking into account mitigating factors including the Player's clean judicial record, his acceptance of foul play and his expressed remorse, the Judicial Committee reduced the suspension to 3 weeks.
"The player is therefore suspended for 3 weeks, up to and including 22 June 2019."
Law: 9.13 A player must not tackle an opponent early, late or dangerously. Dangerous tackling includes, but is not limited to, tackling or attempting to tackle an opponent above the line of the shoulders even if the tackle starts below the line of the shoulders.