Springbok second row teammates Eben Etzebeth and Lood de Jager came to blows in Saturday's Super Rugby match between the Stormers and the Cheetahs in Cape Town, and while no punches were thrown, there was clearly some fire in the heavyweight encounter.
The two have both been included in the Springbok 31-man squad to take on Ireland next month, so it was interesting to see them react like this to one another, perhaps showing that provincial rivalries still mean more than friendships off the field.
It looked like De Jager (6ft9) bodychecked infamously aggressive Etzebeth (6ft8), who naturally took exception to it. It was handbags and death stares until Etzebeth flung the babyfaced Cheetahs look to the floor, going in with a bit of a forearm to the face or neck.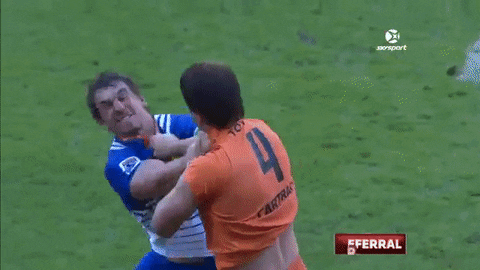 Referee Glen Jackson found it all quite amusing, saying it was just "South African fun", and simply gave them a bit of a talking to.
"There's always personal fight… everyone wants that Bok jersey for himself so I think that's a massive battle," said Cheetahs captain Francois Venter.
"Lood actually owed him one from the previous game in Bloemfontein. I think Eben got the better of him there, but I'm proud of Lood. He picked up his game and his presence was felt on the field again. It's always great seeing them play against each other and they are a huge clash."
It would have been nice to see the two Test players shake hands or something of the sort, but egos were clearly bruised and they can chat more about it in the Springbok camp in Stellenbosch.
The Stormers won the match 31-24. View the incident in the highlights wrap below