The debate surrounding the severity of the Scott Barrett red card has been intensified with news today that the sending off has warranted a suspension of a few weeks.

The SANZAAR Foul Play Review Committee accepted a guilty plea from Barrett for contravening Law 9.16: A player must not charge or knock down an opponent carrying the ball without attempting to grasp the player, after he was Red Carded during the 47-26 loss to the Wallabies at the weekend.
Barrett has been suspended from all forms of the game for 3 weeks, up to and including Sunday 1 September 2019.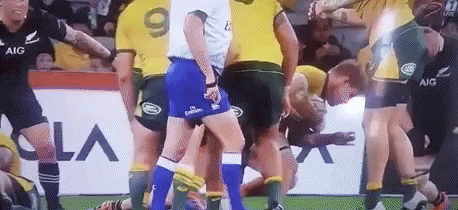 The SANZAAR Foul Play Review Committee of Adam Casselden SC (Chairman), Stefan Terblanche and Eroni Clarke assessed the case.
In his finding, Foul Play Review Committee Chairman Adam Casselden SC ruled the following:
"Having conducted a detailed review of all the available evidence, including all camera angles and additional evidence, including submissions from his legal representative, Stephen Cottrell, the Foul Play Review Committee upheld the Red Card under Law 9.16.
"With respect to sanction the Foul Play Review Committee deemed the act of foul play merited a mid-range entry point of 6 weeks due to World Rugby instructions that dictate any incident of foul play which results in contact with the head and/or neck must start at a mid-range level. However, taking into account mitigating factors including the Player's exemplary judicial record, his expressed remorse and the fact the Player has pleaded guilty at the first available opportunity, the Foul Play Review Committee reduced the suspension to 3 weeks.
"The Foul Play Review Committee adjourned the hearing to seek more evidence regarding the Player's proposed schedule of matches. Upon reconvening the Foul Play Review Committee was presented with extensive evidence demonstrating the Player's intended playing schedule. The player is therefore suspended for 3 weeks, up to and including Sunday 1 September 2019."
The All Blacks finished the Rugby Championship in third place, while South Africa lifted the trophy in Salta after a convincing win over Argentina.
New Zealand next host the Wallabies in the deciding Bledisloe Cup fixture in Auckland this coming weekend.