South Africa came from behind at the death Saturday night to score a breathtaking converted try and hard-earned draw in Wellington. One of the main talking points from the match has been the shoulder injury sustained by Brodie Retallick in the second half.
The injury came in the 61st minute when RG Snyman hit Retallick from the side. Eagle-eyed viewers could immediately see Retallick reel away awkwardly from the hit and knew it was more than a normal reaction. In a moment, All Black fans could see their World Cup hopes take a serious set back.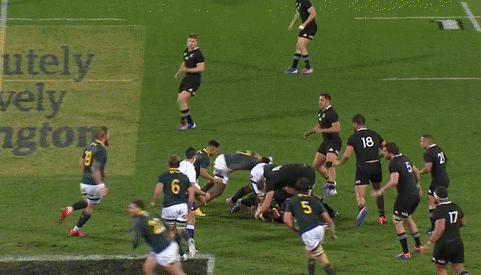 Snyman's entry and Retallick's dislocated shoulder have reignited conversations about ruck laws, with former Fiji Sevens coach Ben Ryan once again taking the lead on his Twitter page. It would seem that many agree with him.
So many of the rucks tonight in #NZvRSA looked like this – bodies littered on the floor, side entries, just a mass of a mess. Officials haven't got a hope of picking the bones out of this – infringements everywhere. Direction must come from on high ASAP. pic.twitter.com/U1I4AsTqQA

— Ben Ryan (@benjaminryan) July 27, 2019
There is some good news out of the All Blacks camp, however, as it was revealed that after having the injury checked out, it was cleared of structural damage without the need of a scan.
Coach Steve Hansen offered more positive news:
"We have a reasonably positive update. He's only dislocated it, which means that there's a good possibility he could make the World Cup. There's no timeline yet about when he's going to return to play, hopefully, he'll be available to go to the World Cup. He's one of our best players, so I'm obviously relieved, it's good.
"The cleanout itself was technically OK, apart for the fact he was offside – he entered the ruck from the side of the ruck – but that's only a penalty."
Asked whether he thought Snyman should have been cited, Hansen said "No no no, it's a big boys game".