England captain Owen Farrell seems to cop more criticism than your average player. This time, it's come from former referee Nigel Owens after Farrell was involved in a bit of back and forth with referee Mike Adamson in England's 41-18 victory over Italy.
In a column for the Daily Mail, Owens wrote: "There was too much chat from him to the referee. That must stop… He never did that with me. Every time I referee, I tell the players that there is a time and a place for a conversation.
"If they want to discuss something, they have to do it in the right manner. That is one of the game's values.
"I never have any issues with Owen. Whenever I reffed him, he was always polite. He knew where the line was and never crossed it. That shows he can do it.
"It is up to the referees to keep strong and stay on top of things like that. We don't want to see it creeping in."
It seems lately that more and more back-chat is creeping into the game, which is starting to get a fair degree of notice from fans and pundits, alike.
England captain Owen Farrell leading by example at Twickenham today #EnglandRugby #SixNations pic.twitter.com/NvsqyHb3KF

— james___flynn (@jamesfl68585245) February 13, 2021
Several others, including Owens, also decried a late Farrell hit on Stephen Varney that escaped notice.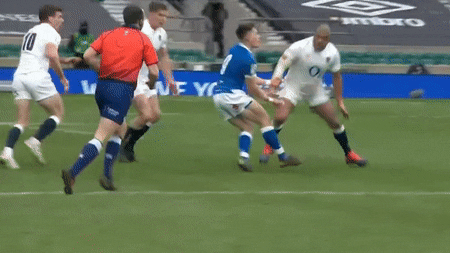 However, the hit was reviewed but deemed to be chest to chest and nothing more.
You can also see every angle of Jonny May's incredible try here and general match highlights below.