Gloucester flyer Ollie Thorley received one of the more bizarre sending-offs we've seen after a dangerous challenge he made against Wasps this past weekend. He faces a disciplinary hearing today. 
In an eventful contest that included one of the greatest prop assists for a try ever seen, Thorley was just another talking point after he flew into a tackle upright.
The England-capped speedster chased a Willie Heinz high ball but unfortunately went into the challenge on Rob Miller very upright, resulting in a clash of heads/faces.
Thorley received immediate medical attention and had to go off for an HIA with blood gushing from his face, and was replaced by Charlie Sharples.
Referee Matthew Carley had his attention drawn to the incident and despite the best efforts of TMO Graham Hughes to dissuade him from taking a stringent view on the challenge, Carley broke it down.
"He is upright. He doesn't bend at all, and he is going forward into the tackle. With the black player, there is no significant dip there. So I think we've definitely got fault by the white player. He could bend at the waist and he could tackle lower," said the referee to his TMO.
Hughes responded: "But I'm not seeing that as foul play. He goes to grasp him.. and he then comes off worse, so…"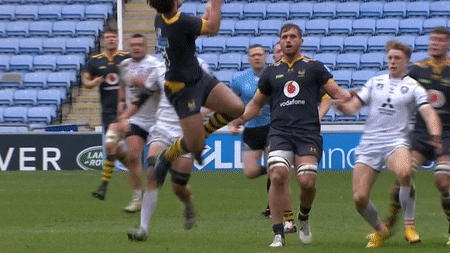 Carley overruled him, again citing the facts of the incident, and eventually got Hughes to agree with him (albeit reluctantly).
"He's always high. He's got clear line of sight to run into the tackle, and he makes direct head contact with the Wasps player… No attempt to dip. I don't think there's any way we can mitigate that. So it's got to be a red card," Carley said.
The red card was shown, and with Thorley already off the field, his replacement Sharples then had to return to the bench.
Ollie Thorley red card, my god😂😂

— Jack Nowell (@nowellsy15) March 6, 2021
Thorley will today (Tues 9.3) face an independent disciplinary hearing for a dangerous tackle, contrary to World Rugby Law 9.13.
You can see the incident in full in the highlights below.