Cheetahs prop Ox Nche has faced the full wrath of a Disciplinary Committee after he was viewed as being fairly leniently sin-binned when he took Leinster's Fergus McFadden out in a dangerous challenge last Friday. At the time, referee Nigel Owens felt it was not a red card offence.
The Cheetahs front rower took part in a video conference hearing after he was cited for allegedly infringing Law 9.12 – A player must not physically abuse anyone and Law 9.25 – A player must not intentionally charge or obstruct an opponent who has just kicked the ball [originally reported as Law 9.13 and Law 9.25].
The Committee comprising of Sheriff Kathrine Mackie (Chair), Roddy MacLeod and Ian Douglas (All Scotland), concluded that the player had committed an act of foul play involving contact to the head.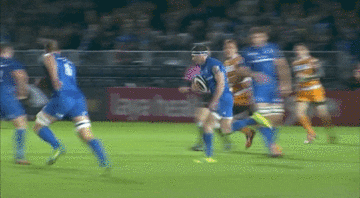 In upholding the Citing Complaint, the Disciplinary Committee deemed that the offence merited a red card under Law 9.12 (Striking with the shoulder) and that the contact to the head was intentional with a top-end entry point of 10 weeks.
They took into account Nche's previously clean disciplinary record and his good conduct and applied 20% mitigation which reduces the ban to eight weeks.
To ensure the eight-week ban accounts for meaningful matches played by the Toyota Cheetahs in the Guinness PRO14 and the Currie Cup the player will be free to play from midnight on Sunday, May 19, 2019.