Two separate incidents from the weekend have been cited by a SANZAAR disciplinary committee. Queensland Reds forward Angus Scott-Young is facing a lengthy ban after punching James Slipper and Sharks centre Marius Louw has been cited for his dangerous tackle on Tom English.
*UPDATE BELOW
Citing committees have been busy all weekend. First, there was a bizarre biting incident in a Premiership match between Sale and Newcastle, with Sale hooker Rob Webber claiming he was bitten on the arm. Now, two Super Rugby clubs are set for a fair bit of bad news.
Late in the first half of the Reds' 36-14 victory, Young entered a ruck and hit James Slipper in the back of the head with his fist. He then connected with his right knee for good measure.
Although he wasn't caught at the time, he's since been cited for contravening Law 9.12 which states "a player must not physically abuse anyone".
A probably ban will mean he may miss the Reds' South African tour.  He will go before a judicial hearing on Monday afternoon.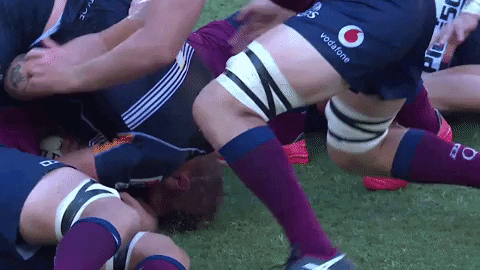 Sharks centre Marius Louw has also found himself in hot water over this late and careless clothesline tackle on Tom English. It was not disimilar to Lloyd Johansson's coat hanger tackle on Stirling Mortlock in 2007, albeit slightly less impactful.
He was yellow carded at the time.
Louw and the Sharks handed the Rebels another loss on their African tour, but it could prove costly as he too will face the SANZAAR committee.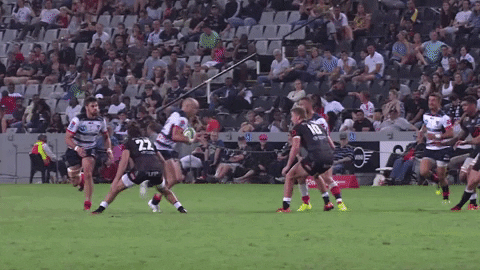 *UPDATE:
Scott-Young was issued a warning but is free to play. Marius Louw has been suspended for three weeks. All details below.
Angus Scott-Young
"Having conducted a detailed review of the available evidence, in particular a video showing a close up of the incident, and hearing from the player himself and considering submissions from his legal representative, Mark Martin QC, the Judicial Committee upheld the citing of an act of foul play under Law 9.12."
"The Judicial Committee however found that the act of foul play did not meet the Red Card threshold due to amongst other factors the fact that the initial point of contact appeared to have been between the Player's forearm and his opponent's back / shoulder area, the resultant contact thereafter between the back of the Player's closed fist and his opponent's head was minimal / glancing and the Player's explanation for the incident, including his attempt to protect his previously injured hand by closing his fist during the clean out, revealed absence of malicious intent."
"It was determined that during the course of a legitimate, albeit clumsy, attempt to clean out his opponent, the back of the Player's closed fist made contact with the back of his opponent's head with minimal consequence. It was decided that while the citing was warranted in that there had been contact between the Player's hand and the back of his opponent's head which amounted to a striking of his opponent's head, this was not intentional nor so reckless as to have warranted a Red Card on the field. As a result a Warning would be issued to the Player."
"The player is free to resume playing immediately."
Marius Louw
Louw has been suspended from all forms of the game for 3 weeks, up to and including Saturday 13 April 2019.
In his finding, Foul Play Review Committee Chairman Adam Casselden SC ruled the following:
"Having conducted a detailed review of all the available evidence, including all camera angles and additional evidence, including from the player and submissions from his legal representative, Adrian Montzinger, the Foul Play Review Committee upheld the citing under Law 9.13."
"With respect to sanction the Foul Play Review Committee deemed the act of foul play merited a mid-range entry point of 6 weeks due to World Rugby instructions that dictate any incident of foul play involving contact with the head must start at a mid-range level. However, taking into account mitigating factors including the Player's good judicial record and the fact the Player has pleaded guilty at the first available opportunity, the Foul Play Review Committee reduced the suspension to 3 weeks."
"The player is therefore suspended for 3 weeks, up to and including Saturday 13 April 2019."
credit: foxsports/sanzaar