Waratahs second row Jed Holloway has been suspended after he struck front rower Thomas du Toit during the Sharks win away from home in Sydney on Saturday. While Du Toit was considered the instigator, Holloway left the referee little choice. 
As a maul broke up early in the second half, Du Toit held on to the Waratahs lock's jersey for a few seconds too long, leading to a strike to the face with the elbow. Referee Nick Berry was alerted to the incident and after lengthy consultations with his assistants and TMO, he sent Holloway off.
Du Toit too, however, was punished for holding as he received a yellow card, despite captain Tendai Mtawarira's attempt at claiming that it was still part of a maul.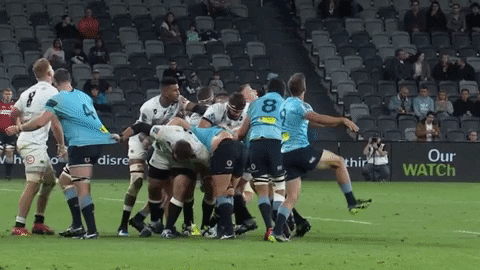 The SANZAAR Foul Play Review Committee accepted a guilty plea from Holloway for contravening Law 9.12: A player must not physically abuse anyone. Physical abuse includes, but is not limited to striking with the elbow.
Holloway has been suspended from all forms of the game for 3 weeks, up to and including 18 May 2019.
In his finding, Foul Play Review Committee Chairman Adam Casselden SC ruled the following:
"With respect to sanction the Foul Play Review Committee deemed the act of foul play merited a mid-range entry point of 6 weeks due to the World Rugby instructions that dictate any incident of foul play involving contact with the head must start at a mid-range level.
"However, taking into account mitigating factors including the Player's clean judicial record, the Player's expressed remorse and the fact the Player has pleaded guilty at the first available opportunity, the Foul Play Review Committee reduced the suspension to 3 weeks."
"The player is therefore suspended for 3 weeks, up to and including 18 May 2019."
We've seen many examples of frustrated players lashing out when being held over the years, but these two below stick out in the memory as some of the most brutal.
Munster's Paul O'Connell took out Jonathan Thomas with a vicious strike in 2010
And a year later in 2011, Sean O'Brien swatted Yannick Nyanga as Toulouse went over for a try.
credit: sanzaar