Reds second row Harry Hockings has been suspended after he was shown a straight red card against the Sunwolves in Brisbane on Saturday. It was the second red card of the night, as referee Angus Gardner and the TMO had a busy match.
Following a red card for two yellows to Sunwolves winger Semisa Masirewa, Hockings got himself in trouble just five minutes from time.
After having his foot held at the base of a ruck, the young lock pulled himself free then gave Sunwolves number eight Rahboni Warren-Vosayaco a tap in the face with the bottom of his boot.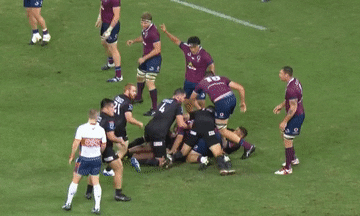 Upon review, 20-year-old Hockings was shown a red card while number eight Warren-Vosayaco was given yellow for holding him.
"You're going to the bin for holiding his leg, that's why he put his boot in your face," explained Gardner as he showed the yellow.
A SANZAAR Judicial Committee Hearing found Harry Hockings of the Reds guilty of contravening Law 9.12: A player must not physically abuse anyone. Physical abuse includes, stamping or trampling.
Hockings has therefore been suspended from all forms of the game for 3 weeks.
In his finding, the Judicial Committee Chairperson Nigel Hampton QC ruled the following:
"The Judicial Committee deemed the act of foul play merited a mid-range entry point of 6 weeks due to the World Rugby instructions that dictate any incident of foul play involving contact with the head must start at a mid-range level.
"The actions of the Player were deemed reckless although the contact made was found not to have been made with significant force. Taking into account mitigating factors including the Player's clean judicial record, his youth and good reputation, his acceptance of responsibility and his expressed remorse, the Judicial Committee reduced the suspension to 3 weeks."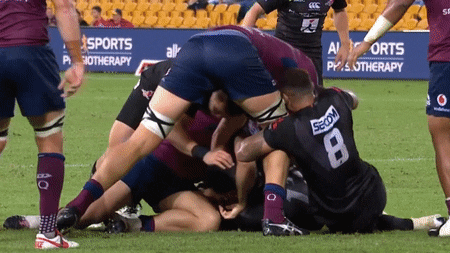 Sunwolves winger Nasirewa, meanwhile, has been suspended for 1 week after his two yellow cards.
Catch up on the full match highlights below
credit: superrugby